Does your organization struggle to sustain quality improvement activities?
---
Do you spend time training and retraining staff, yet still find the practices aren't being followed?
---
Are you venturing into the world of value-based payment or BPCI, but worried about controlling costs and protecting revenue?
---
Do you yearn to spend more time on proactive improvement rather than constantly fighting fires?
---
Does the survey process fill you with anxiety, or do you struggle with creating plans of correction?
 Perhaps Lean is the missing link.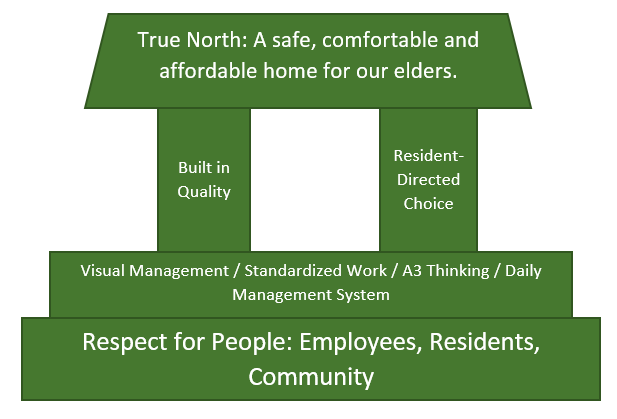 Lean is person-centered quality improvement strategy, forged from lessons learned across industries, countries, and workplaces. It serves as a cultural anchor, a philosophy of change and a foundation to improve the way you serve residents. eSSee Consulting can help your organization implement lean philosophy and tools to create a world-class focus on continuous improvement driven by every member of your organization.
How eSSee Consulting Helps:
We lead workshops and training retreats to learn how to implement Lean practices and tools into your organization
We can transform your QAPI or QA program into a Lean-driven continuous improvement culture
We provide auditing and assessments to identify areas for rapid improvement, waste reduction or workflow restructuring.
We help address troublesome quality issues by implementing systemic thinking and driving employee engagement
We can prepare resource guides and training materials to teach line staff effective and efficient problem solving methods
We evaluate EHR and analytics technologies for opportunities to improve adoption, usage and business intelligence.
We will work hand-in-hand to lead improvement bursts (sometimes called Kaizen Events): these are focused two to three day workshops designed to optimize a process or activity and generate breakthrough results quickly
Focus on Value

Lean is about creating the best possible value for residents. Lean is a systemic approach to improvement, and focuses on identifying and eliminating waste (of resources, time, effort, and even human potential) through continuous improvement (kaizen) by investing in and empowering everyone in an organization through an engrained philosophy of respect for people. Lean is rooted in the Toyota Production System, and has been successfully deployed in a variety of sectors, including healthcare where efforts have shown significant improvements in quality, safety, efficiency, and employee engagement. Thedacare, Virginia Mason, Presbyterian Homes and Services and a host of other healthcare organizations have already realized incredible results by applying Lean principles to their operations. In long-term care, Lean also helps accelerate culture change and person-centered improvement initiatives.

Continuous Improvement

Lean is about creating a culture of continuous improvement (kaizen) where everyone in the organization looks for opportunities to reduce waste and increase value.
Value-added processes must be what a customer (resident/ employee/ stakeholder) wants, is willing to pay for, and done right the first time. Non-valued added but necessary processes (such work required by regulation) should be minimized.
Lean focuses on identifying and removing waste: Defects, Overproduction, Waiting, Non-utilized talent, Transportation, Inventory, Motion, and Excess processing.

Respect for People

Respect for people means that managers spend considerable time on the floor, working directly with staff to address problems through root cause analysis and sustainable improvements.
Organizations provide education, development opportunities, training and necessary resources to effectively empower workers and create exceptional employees.
A "Just Culture" approach to errors and mistakes ensures that employees are accountable for behavior but not blamed for system and organizational defects.

Organizational Philosophy

Management is oriented to a long-term, value-based view instead of towards short-term financial goals. Cost-cutting mentality is replaced by value-adding thinking.
Decisions should be made slowly, by consensus (or learning circles), but implemented rapidly.