A Trusted Partner
EHR projects are significant undertakings for aging services providers: they represent an enormous investment of time and money, and your residents and staff are depending on a successful implementation process.
eSSee Consulting provides a range of Health IT solutions, from readiness assessments, through vendor selection and implementation, to post-go-live and optimization of existing installations.
 Unique and Individualized Action
Each situation requires a customized and unique plan of action to accomplish your organization's goals. We work collaboratively with your team to understand innate strengths and opportunities, leverage resources and expertise, and craft solutions perfect for your residents and your organization.
Singularly Focused
Move beyond the hype and select a vendor-neutral consultancy with one goal: your satisfaction. We'll manage project deadlines, provide unparalleled expertise, and allow your staff to stay focused on their very important mission: serving residents.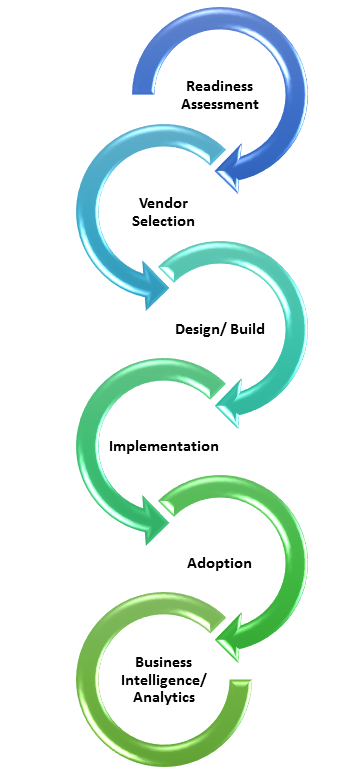 Just beginning the search for an Electronic Health Record system? We can help you understand your needs, evaluate vendors, and prepare for the implementation process.

With our unique approach to workflow analysis and integration, we can help you move from inquiry to implementation without dropping a beat in your normal operations.

EHRs have the ability to improve staff workflow, reduce errors and omissions, streamline revenue cycle management, and free your staff to spend more time with the residents you serve. Unfortunately, many vendors will push cookie-cutter trainings, ill-fitting project plans, and difficult setups onto organizations in their quest to make the next sale.

We offer a range of solutions to meet your needs, from project management and training design, to training delivery and custom builds (with select EHR vendors), to go-live support and troubleshooting assistance. By managing project deadlines and deliverables, we free your staff to stay focused on their crucial work.

Once you have a system in place, are you measuring adoption? Is your system improving workflows or are your staff developing workarounds to manage their hectic duties? You've spent tens or hundreds of thousands of dollars investing in your EHR– don't use it for anything less than its full potential.

The ultimate value of an EHR is being able to capture resident data and turn it into actionable strategy to serve all your stakeholders better. From improving reimbursement to maximizing the predictive value of care planning to forecasting future staffing, capital and resident needs, unlocking analytics is the key to your success in this rapidly changing marketplace.

We can assist in evaluating the penetration of your EHR, assessing staff use, and developing strategies to improve workflow, reduce frustration and capture the efficiencies you hoped for in the beginning.
Ready to get in touch? Fill out this quick form and we'll contact you shortly!
Recent Articles on EHRs by eSSee Consulting
EHR projects are challenging for any healthcare organization, but especially so for LTPAC providers, who typically lack IT resources, capital infrastructure, and the staff stability that is crucial…
Load More