While a lot has been written about finding the "right" employees for aging services organizations, many providers still struggle with turnover of 40%, 50%– even 75%. The costs of high turnover are well known: direct orientation and retraining time, poor productivity, lower team cohesion, higher incidence of care problems and regulatory issues. So what's the challenge? Providers need to look beyond just the search and selection process. In fact, many providers aren't getting the right people in the door at all, or, when they do, don't invest enough for talented, capable employees to want to stay.
Here are three overlooked areas to consider to help your organization hire and retain new staff better:
Build the Right Impression from the Very Beginning
Take a look at your recruiting and application processes. Do your job ads speak of the culture of your organization and the type of applicant you are seeking? Is the application process itself easy and straightforward? How are applicants greeted when they come into your community for the first time? The initial impressions set the stage both for the quality of people who will stick through the process and how seriously applicants will take your cultural messaging once they are hired.
Many job ads are little more than simply job descriptions, or, worse still, just a short list of requirements. This is a huge missed opportunity to connect with the heart and passion of potential employees. Instead, craft postings that highlight your organization's character and flair, the warmth of your residents, and the opportunity available. Compare these three job postings for a similar position: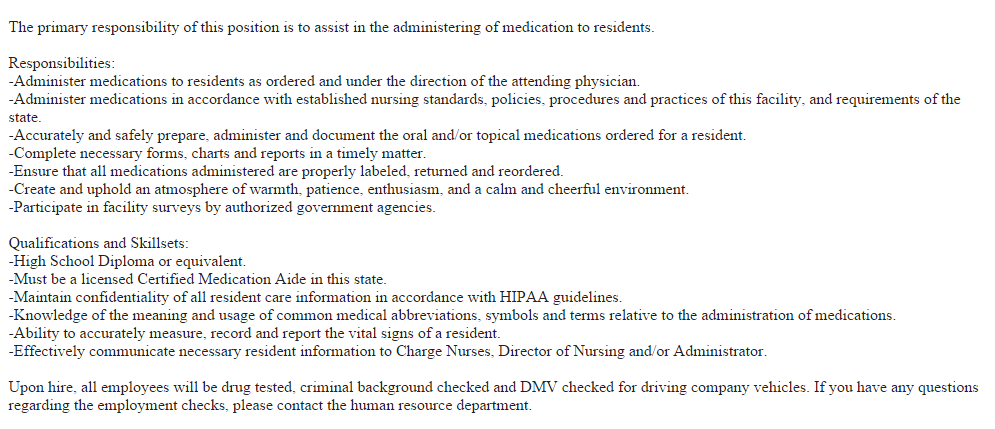 ---

---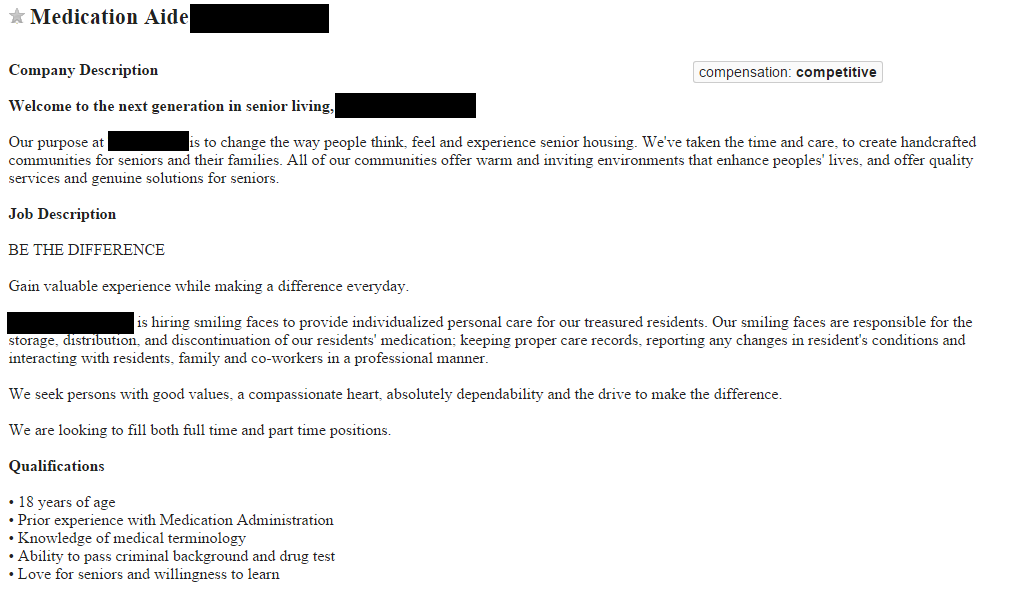 Which job are you more likely to apply for?
Some rigorous applicant tracking systems, in trying to make life as easy as possible for Human Resources, require applicants to wade through screen after screen of an application, entering information that will only be glanced at once or twice—previous employment information, skills inventory and the like— unfortunately, such a process can send the message that you don't value the applicant's time. Demographic information, a resume, and a brief statement from the applicant should be sufficient to determine if you want to know more; gather more in-depth information, like references and skills, after an initial screening.
When you invite an applicant to your community for an interview, think about their experience visiting for the first time. Many communities have invested heavily in the front entrances and grounds of communities. But what happens after they walk in the front door? Are they offered a beverage and a comfortable seat? Or are they greeted from behind a glass window and told to wait on an old bench in the hallway? When walking the applicant through the hallway, do you take time to introduce them to residents and staff that you pass? Or is the applicant walked in silence to the back conference room? These first impressions can solidify a community's commitment to hospitality or reinforce the view that employees are simply another resource in a giant machine.
Orientation
One of the best investments an organization can make is in its orientation process. Many communities, however, thrust new employees onto the floor as quickly as possible, oftentimes without completing even a rudimentary orientation process.
Start with a thoughtful and well-designed process instead. Give new staff sufficient time to shadow, practice, and finally demonstrate their knowledge of the work. Pick trainers that are positive and know their assigned residents well. Strive for consistency in trainers to help build mentoring relationships. Create position-specific new hire information to cover required skills and knowledge. A check-off list that new staff and trainers both complete can help encourage standard training and eliminate gaps and oversight.
Introduce new employees to not only to their own work area, but also the rest of the organization. Schedule time to visit with other departments so new employees understand how the entire team works together to serve residents. This also serve to build cross-functional relationships and lessons the natural tendency for departments to form silos and rivalries.
Make sure the orientation is long enough for new employees to understand the work they are expected to do and, even more importantly, how they can go about finding additional information later on. Many things won't be covered during the initial few days, so it is crucial that new employees know where to find information– lest they resort to guessing or not completing certain work.
Evaluation (For Them and You)
Check in regularly with new employees throughout their orientation period. In addition to asking if the new employee has any questions, ask about their experience with the orientation and for feedback to improve it for others in the future. Ensure that they received enough training by checking in with co-workers and trainers. Ask if they are happy, and what they would like to change about their work so far. Creating a standardized check in process can be very helpful, too. After an initial orientation, schedule follow-up meetings at regular intervals. The administrator should conduct at least one of these meetings to help reinforce the vision they hold for their team and build strong relationships with new staff.
Here is an example of one organization's orientation and evaluation approach:
Orientation Philosophy
Guiding Principle: To achieve our mission of providing quality continuing care to our residents, and in the spirit of our values of service and excellence, we believe new employees will best succeed with a structured, thoughtful, and extensive orientation to their work. Administration, current staff, and new employees all have important responsibilities to ensure this happens.
Goal: New caregivers will be able to perform all assigned job duties with their assigned resident group and have sufficient knowledge about community policies, practices and procedures to be successful in their employment here.
Process: New caregivers will be assigned at least seven days of orientation. Ideally, the first three days will be with one trainer and one group of residents. Subsequent days may be with other groups in the same level of care.
Trainers will give new caregivers feedback about their work during training. Any serious skill or work habit insufficiencies will be communicated during this phase to the staffing coordinator, who will ensure additional orientation time is scheduled.
After initial training is complete, new caregivers will have a check-in with the Staff Development Coordinator, and then work on the floor for approximately two weeks. They will then meet with the Administrator to review any issues during orientation and help identify any additional training needs at this time. New caregivers will also be scheduled off the floor for an additional day of orientation to review their training and ask any questions that may have come up during the first two weeks of solo work.
Regular check ins with team leaders and community administration are scheduled throughout the first 90 days to ensure a warm and thorough welcome, identify any orientation or training gaps, and ensure new caregivers are successful in their long-term work here.
Investing time and resources in training employees adequately can seem burdensome at first. Some current employees who had to learn by jumping into the fire may even feel resentful of the investment. Over time, however, most communities experience significant returns on the upfront investment, including lower turnover, better quality care and less administrative time spent resolving training and quality-related conflicts. By setting the stage from the first interactions, you can help ensure a stable and valued relationship with staff.