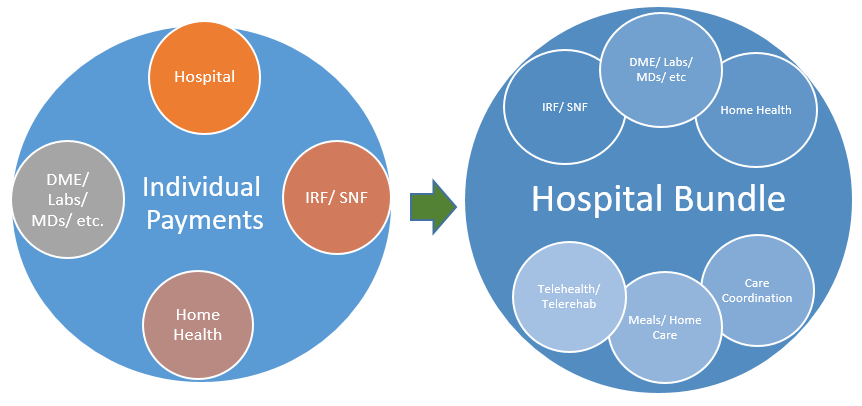 The Centers for Medicare & Medicaid Services (CMS) recently finalized its rule for the Comprehensive Care for Joint Replacement Program (CCJR), a five year pilot program that will run in 67 regions across the country. Hip and knee replacements are the most common inpatient surgery for Medicare beneficiaries and can require lengthy recovery and rehab time. In 2014, there were more than 400,000 procedures, costing more than $7 billion for the hospitalizations alone, with the cost of surgery, hospitalization, and recovery ranging from $16,500 to $33,000 across geographic areas. This wide variation in cost, along with similar variation in quality and complication rates, led CMS to make the CCJR program mandatory for almost all hospitals within the chosen regions.
Percent of Spending by Type, MS-DRG 470

Index (hospital)
Post-Acute Care
Physician Services
Rehospitalizations
Other
The CCJR will hold hospitals accountable for cost variation and performance for the 90 day period beginning with the hospital admission for MS-DRG 469 and MS-DRG 470, inclusive of all related follow-up post-acute care and Part B spending.  The specific mechanism for payment places a high burden on hospitals to select high-quality, lower-cost post-acute care providers, and actively manage cases as patients move through the episode of care. While individual fee-for-service providers will continue to receive regular payments for services, CMS will prepare an accounting at the end of the year (beginning with year two of the pilot) of the actual spending versus the allowed spending based on a per-episode rate. Hospitals that exceed the allowed amount will see their year-end Medicare payment reduced by an equal amount, whereas hospitals that spend less are eligible for an incentive payment. In addition, CMS will set quality benchmarks that must also be met regardless of spending.
Many hospitals will struggle to navigate the post-acute care environment and select the most effective setting for patients. For post-acute care providers, this is a fantastic opportunity to provide leadership and guidance to local hospitals serving joint-replacement patients. PAC providers with extensive home health networks will be at a particular advantage, as this program provides an incentive to test out lower cost interventions, such a tele-therapy, remote home monitoring, and active case management as an alternative to extensive skilled nursing stays and potential hospital readmissions. For patients still within the 90 day window, skilled nursing facilities have the opportunity to provide a lower cost triage and stabilization environment for patients versus a repeat acute inpatient admission.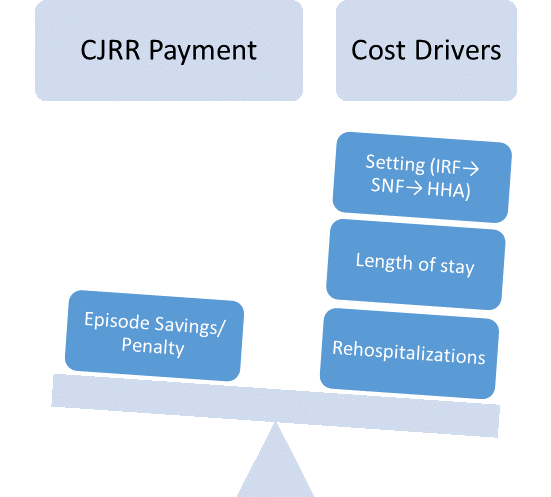 Initially, partnerships and narrow referral networks will likely be based on publicly available measures, like the Nursing Home Compare Five Star Rating System. This is only the beginning, however. As I've written before, narrow networks will soon give way to smart networks, built on actual value outcomes and cost data. CMS plans to share extensive spending and use data to eligible hospitals to help them navigate this new program before penalties begin to set in. Armed with this information, hospitals will likely shift their focus to outcome measures and quality factors that account for the biggest drivers of actual costs: least expensive setting, overall length of stay, functional improvement, and readmissions over the entire 90 day episode.
In the example to the right (taken from the Vantage Care Positioning System from Avalere Health), two area SNFs have significantly different LOS and rehospitalization rates, leading SNF A to cost more than $2,000 more per case, on average, than SNF B. As long as SNF B is able to maintain the necessary quality levels, hospitals will have a significant financial incentive to funnel patients to that location.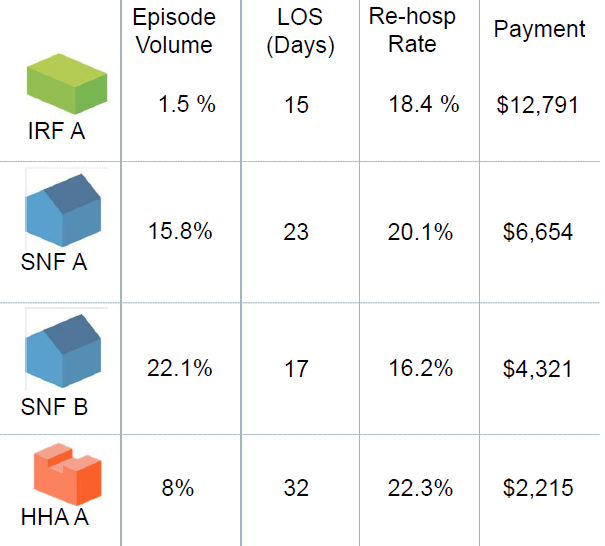 Going forward, there are additional avenues that offer even more potential to reduce costs and better serve patients, notably:
Respite care in assisted/ residential care communities, coupled with home health
Telerehab, with reduced frequency home health
Remote patient monitoring to increase security/ reduce risk for patients recovering at home
Incorporation of non-medical healthcare workers armed with clinical decision support and predictive analytics to guide services
Home care, meals services, and housekeeping support post-discharge to reduce risk of rehospitalizations or other complications.
The CCJR is likely the first of a new wave of mandated bundles from CMS, and may pave the way for similar moves by other payers. Hospitals, skilled nursing facilities, and post-acute care providers should view the joint program as a template to build upon in a value-based future rather than an aberration of fee-for-service to be minimized or ignored. Non-traditional players, such as home care, meal services, and other senior housing providers, should view the CCJR as a new market opportunity with significant growth potential ahead.